Copyright © 2008-2010 The Deaf Alien ALL RIGHTS RESERVED.
---
The Deaf Alien CANCELLED

Wednesday, June 25, 2014, 7:35 PM

Hello, fans!





We truly wanted to thank you for visiting our blog site and watching our show also. We are saddened to announce this show has been cancelled. It is too complicated situation. We cannot tell you why. But, Braz promises you that he will make a new show and hopefully, it will be possible to release 2020. Let's see what happen in a future then. ;)





Thanks.






TDA Update

Thursday, April 7, 2011, 3:58 PM

Hello, folks!

Recently, I added some cast & crew pictures bringing back and new links also. I will make an announcement video to post it into this website soon. It's all about The Deaf Alien (TDA) will be changed everything to new name title, because Mark wanted to have something a new fictional characters and story details. I am the host who introducing to explain about it. We discussed to agree to make a new project in 2012.

Thanks for reading and visiting our website.

The editor,

Braz Coffey




The Stolen Soda trailer

Saturday, May 29, 2010, 3:22 PM
Johnny Vegas
is a director of Independent Films.


Guest starring:




B

raz

C

offey



&





A

mber

H

orner
ENTER TRAILER HERE!
Update & Coming Soon
Friday, April 30, 2010, 1:13 PM
Hello aliens,

I announce all of you to know about us are very busy, but Dave Shelton's film almost done when I send a couple videos to him. And then he will finish a whole movie to send an upload video into YouTube! Yes. It's coming soon.

Updates:



Mark Lee

still is working on his giantess for group only and now he's on a vacation, cannot tell you.



Amber Horner

currently processes on her new project in the future.



John Guy

&

Braz Coffey

recently creating a new movie is coming soon, almost completely movie!



Dave Shelton

is too almost finishing his story movie of the Deaf Alien soon! Hurry Braz! Lol.


Thanks,

Braz Coffey the editor
The Deaf Alien Updates
Monday, August 10, 2009, 12:40 AM
Hello fans! I have talked and discussed with them in last two weeks ago, since they are too busying every time, and I decided to update with you all know how we are doing life. Here you go!
Mark Lee
works so hardest time to do things for the Giantess group on sell his artworks to earn some money for his college and others, too. He will return to work on The Deaf Alien films in the next two months after his Giantess artworks.


Braz Coffey
's frustrating things to do on his own website, needing to finish work on the script/the storyboard of "
The Ghost Returns
", and he also wants to started a processing film set on the scene with his best friend, Amber, before October 31st. Braz'll work with Dave Shelton as he wants me to be a part of his story as policewoman again soon.
Johnny Guy
has a new blog website called "The Deaf Free Space", click it. He works his processes on Bryce program for planning a film set in the other days or more later like months.


Amber Horner
is presently working on crafts of Egyptian rats for fans. Dave has asked Amber for a volunteer of the saleswoman character on his story parts of The Deaf Alien soon when he has a time to do work on the film with her then...


Dave Shelton
is too busying man since whole his things to do...
Introducing to the Deaf Alien
Saturday, June 20, 2009, 7:06 AM
Dear Deaf community & fans,

Here's introducing to The Deaf Alien about they voyagers into outer space as known as Mark Lee with his wife Kim Zeth'ok-Lee who is a pretty alien, and they goes to see what's going on with the different planets to travel.

As possible as I could make a video about the "Spaceship" in a new sign for our future powerful ASL forever. It's coming out soon later...


Editor,

Braz Coffey
About The Deaf Alien
No Description this story about The Deaf Alien.

Apologizes.



THANKS FOR VISITING.



Copyright © 2008-2010 The Deaf Alien ALL RIGHTS RESERVED.
Gallery
Concept Art
Mark & Kim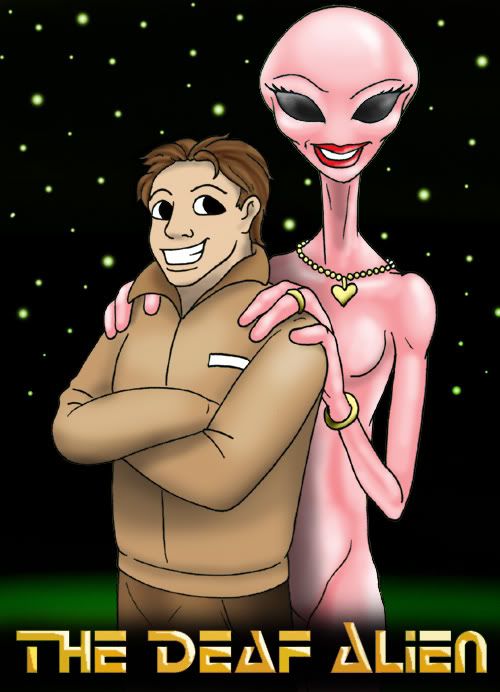 The Childhood of Mark
Links
DragonessLife YouTube - The Deaf Alien Got Braz?: Braz's Blog Deaf Enterainment Videos JOEYWOOD FILMS
Add a link on your website linking to our website!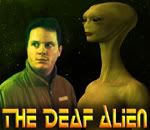 DailyMotion